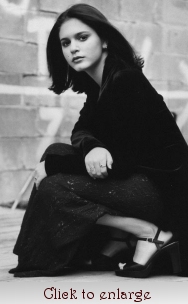 Lindsay Felton
Lindsay plays Caitlain Seeger.
At the age of two, Lindsay Felton was dubbed "The Most Beautiful Baby in the World" by her hometown of Seattle, Washington, and it was onward and upward from there! Lindsay spent several years doing print and television ads before landing her first regular TV role at age eight, playing opposite TV legend Ed Asner on "Thunder Alley." Since then Lindsay's made multiple guest appearances on TV shows including "Nickelodeon Sports Theater with Shaquille O'Neal" and "The Pretender," and made her feature film debut in "3 Ninjas: High Noon at Mega Mountain." When she's not on the set, 15-year-old Lindsay likes doing things that involve sitting down--going to the movies and the theater, watching TV, listening to music and using the Internet!
Jeremy Foley
Jeremy plays Griffen Lowe.
Jeremy Foley plays Caitlin's cousin, Griffen Lowe. Jeremy made his big screen debut in Universal Pictures' "Dantes Peak," which earned him a Young Artist Award for "Best Performance in a Feature: Supporting Young Actor." When it comes to TV, Jeremy has guest starred on several popular series, including "Chicago Hope," "Buffy the Vampire Slayer" and "Touched by an Angel," and he starred as Spin in the Disney TV movie "The New Adventures of Spin & Marty." An extreme sports enthusiast, Jeremy loves to play paintball, practice karate, fence, snowboard and rollerblade. Surfing the web and leading guitar jam sessions with friends fill up whatever's left of his free time!