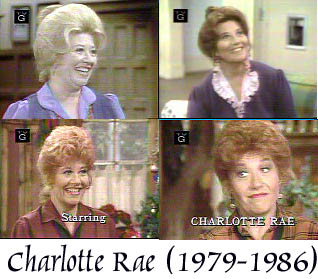 Edna Garrett
FACTS ABOUT THE CHARACTER EDNA GARRETT Mrs. Edna Garrett is is a sensible salt-of-the-earth type. Born and raised on a Wisconsin farm and not highly educated except to life, She has two adult sons. She's been in the Peace Corps. She's divorced, her ex-husband a vaudevillian and a compulsive gambler, which, is why she left him. In 1986 Edna remarried and went to Africa to join the peace corps. Beverly Ann, her sister took her place.

FACTS ABOUT ACTRESS CHARLOTTE RAE Charlotte Rae was born in Milwaukee, Wisconsin, on April 22nd, 1926 as Charlotte Lubotsky. Growing up, Charlotte Rae claims she wanted to be a star just so she would feel like she fit in. To that end she moved to New York City where she met and eventually married composer John Strauss. During her early years she rubbed elbows with other young actors such as Paul Lynde, Uncle Arthur from Bewitched, and Cloris Leachman, her one-time NYC roommate who would later replace her on The Facts of Life. The five recent programs she has starred in are Crime in Connecticut: The Story of Alex Kelly (1999), Nowhere (1997), Tom and Jerry: The Movie (1992), Save the Dog! (1988),and The Worst Witch (1986).

Mail Charlotte a letter You can write Charlotte Rae a letter at:
10790 Wilshire Boulevard #903
Los Angeles, CA 9002-44448
or try a new address
8721 Sunset Blvd. #208
Los Angeles, CA 90069




Interviews Charlotte had and interview with Lew Irvin Reports in 1984. Click on the link to listen to the interview.

Where is she today? Charlotte is still acting and currently residing in California with her husband. She recently starred in a Paper Mill Playhouse Musical; Pippen.She has also done promo's for Nick At Nites 2000 Unhidden Mysteries Marathon for the Facts of Life. You'll also get to catch her as Edna Garrett on the upcoming Facts of Life Reunion. Today Charlotte does little acting and spends time with her children and grandchildren.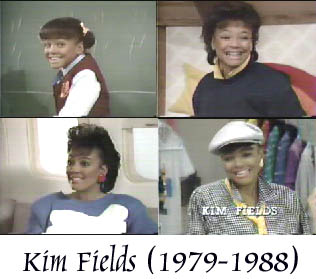 Dorthy "Tootie" Ramsey
FACTS ABOUT THE CHARACTER TOOTIE RAMSEY Kim plays the role of Tootie, the only black of four girls enrolled at an expensive boarding school. Tootie is sweet and adorable. Her real name is Dorothy but her friends call her Tootie. Her best friend is Natalie and they learn some facts of life together by having a white/black friendship.

FACTS ABOUT ACTRESS KIM FIELDS Kim Fields was born in New York City, New York on May 12th, 1969 as Kim Fields Freeman. Kim Fields, a New York City native and longtime L.A. resident, made her debut on Sesame Street at the tender age of five. But one of her most recognizable early roles was as the little girl who "looooooved" Mrs. Butterworth in the classic syrup commercial. After a stint on the series Baby I'm Back and an appearance in the miniseries Roots, Kim landed the role of Tootie on The Facts of Life. When the show began filming, Fields was so short that the producers put Tootie in roller skates to avoid difficult camera angles. Ironically, she had lost a role on Diff'rent Strokes because she was too tall to play Gary Coleman's girlfriend. She has directed Nickelodeon's Kenan and Kel, as well as Fox's Living Single The five recent programs she has starred in are An Invited Guest (1999), C Bear and Jamal (1996), The Crew (1995), Music of the Heart (1999), The Golden Palace The (1992), and Martin (1992).

Address You can write Kim Fields at:
9034 Sunset Blvd.#260
Los Angeles,CA 90069

Where is she today? When The Facts of Life went off the air in 1988, Kim concentrated on getting an education. After graduating with a degree in communications and film from Pepperdine University, Fields returned to acting in the 1993 series Living Single. She has also appeared on episodes of The Fresh Prince of Bel Air, Keenan & Kel and Cupid. While still in college, Kim started her own production company called Victory Entertainment, which specializes in Christian projects. She has directed several TV shows, including episodes of Kenan & Kel and Living Single.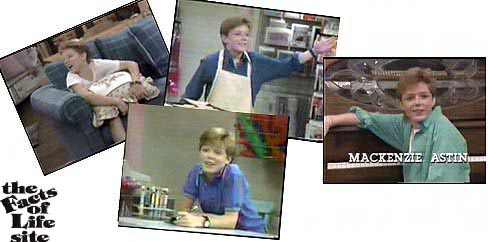 Andy Moffet
FACTS ABOUT THE CHARACTER ANDY MOFFET Andy Moffet was first introduced in the 1983-1984 season. He is the delivery boy. He has a great sense of humor, and gets very close with the four girls. His Grandma, Polly, plagerized Natalies story, Barbara's Down Beat Summer. In 1986, his foster parents split up and Beverly Ann (Cloris Leachman) adopts him.

FACTS ABOUT ACTOR MACKENZIE ASTIN Mackenzie Alexander Astin was born in Los Angeles, California on May 12th, 1973. He is the son of actor John Astin and actress Patty Duke. His brother is Sean Astin. The five recent programs she has starred in are Crime in Connecticut: The Mating Habits of the Earthbound Human(1999), Selma, Lord, Selma (1999), Stranger Than Fiction (1999), The Last Days of Disco (1999),and The Long Island Incident(1998).

Mail Mackenzie a letter You can write Mackenzie Astin a letter at his fan mail address:
Mackenzie Astin c/o William Morris Agency
151 South El Camino Drive Beverly Hills, CA 90212
or write at
4526 Wilshire Blvd. Los Angeles, CA 90010



Where is he today? MacKenzie Astin, the son of Patty Duke and John Astin, spent four years as a Facts of Life cast member. After the show ended, 13-year-old Astin went back to high school to complete his education. He soon returned to acting, and has been working steadily since the early '90s. He has been in several feature films, the most high-profile being 1998's The Last Days of Disco.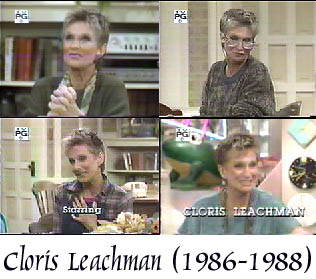 Beverly Ann Stickle



FACTS ABOUT THE CHARACTER BEVERLY ANN STICKLE When Mrs. Garrett leaves Peekskill to follow her new husband to Africa, her sister Beverly Ann steps in to take on the role of surrogate mother and confidante to the girls, as well becoming stepmother to Andy, a local foster child. Beverly Ann is kind-hearted, but extremely talkative and rather scatterbrained. Nevertheless, she is an able manager for Over Our Heads and a loving guardian for her new family.

FACTS ABOUT ACTRESS CLORIS LEACHMAN Cloris Leachman was born on April 30th, 1926, in Demoines, Iowa. She is Left handed and attended Northwestern University (Evanston, IL). She is the only actress to date (Sep. 2000) who has won five emmys in five separate categories. She was Miss Chicago of 1946-Miss America contest. She had her own show called Phyllis which spun-off of The Mary Tyler Moore Show. The five recent programs she has starred in are Hanging Up (2000),The Amati Girls (2000), Music of the Heart (1999), Thanks (1999), and The Iron Giant (1999).

Mail Cloris a letter You can write Cloris Leachman a letter at:
2045 Mandeville Canyon Los Angeles,CA 90049
Note: People have had response.

Where is she today? The former beauty queen turned heads in 1997 when she did a controversial magazine cover for Alternative Medicine Digest where she appeared clad only in body paint. More recently she acted in Hal Prince's national tour of Showboat. In 1998, Leachman won an Emmy Award for her guest appearance on the CBS drama "Promised Land."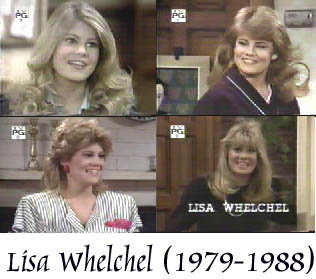 Blair Warner
FACTS ABOUT THE CHARACTER BLAIR WARNER Money, breeding, beautyBlair Warner has it all, and she isn't afraid to let everyone know it. She admits to being spoiled and always getting her way. But tragic events, such as her parents' divorce and the fire at Edna's Edibles, bring out Blair's loyalty and compassion. As she matures, Blair becomes more than just a Warner and shows herself to be an intelligent, responsible person who delights in helping others. Her mother Monica Warner has gone through a total of seven marriages by 1988. Her father David Warner runs Warner Industries. In 1985 Monica Warner had a baby on Christmas day. Blair's baby sister, Bailey, was named after her grandfather. The name was Blairs idea.


FACTS ABOUT ACTRESS LISA WHELCHEL Lisa Whelchel was born on May 29th, 1963 in FortWorth, Texas. As a youngster, Texas native Lisa Whelchel appeared in several productions at the famed Casa Manana Dinner Theatre. But Lisa's Hollywood career began with a spot on The New Mickey Mouse Club. She was one of more than 6,000 young hopefuls to audition. (Producers created an additional spot especially for her.) After her Mousketeer days and a couple of roles in made-for-TV movies, Whelchel was cast as Blair Warner on The Facts of Life. She holds the unique distinction of being the only Facts of Life cast member to have appeared in every episode from 1979 to 1988. During the show's run, Lisa added recording artist to her resume. Her 1984 album "All Because of You" earned her a Grammy nomination for Best Inspirational Performance. In July of 1988 she married Steve Cauble, and had three children, in which she schools them at home. She has no plans to return to acting. The five recent programs she has starred in are Where the Red Fern Grows: Part 2 (1992), Facts of Life Down Under (1987), Facts of Life Goes to Paris (1982), The Wild Women of Chastity Gulch (1982), and Twirl (1981).

Address You can write Lisa Whelchel a letter at:
30408 Olympic St
Castaic, CA 91384

Note: She lives in a different city, this may be her fan mail address.

Interviews
Lisa Whelchel (2000)
File Type: .ram Size: ??
Lisa tells about her new book, Facts of Life, and the reunion in this 18 minute phone interview. Source: http://www.pmpnetwork.com.




Where is she today? Aside from her physical beauty, actress Lisa Whelchel has little in common with her Facts of Life character, Blair Warner. A devout Christian, Lisa's days are devoted to taking care of her family. Married since 1988, Lisa is in charge of home-schooling her three children while her husband is the associate pastor at the Church of the Way in Van Nuys, California. Lisa has recorded several albums of Gospel music and has written a book about child rearing called Creative Correction.Although she has no plans to return to acting, Lisa did appear in a 1997 TV infomercial for the SpaceMate Gold Exerciser and in promos for the 2000 Facts of Life Unhidden Mysteries Marathon on Nick at Nite.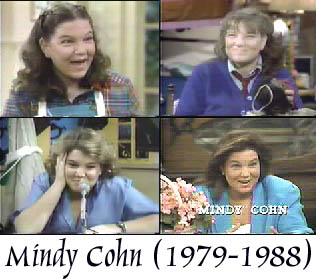 Natalie Green
FACTS ABOUT THE CHARACTER NATALIE GREEN "I'd rather be a happy Magic Marker than a skinny pencil," says chubby Natalieand she means it. Even though she doesn't fit the mold of a traditional beauty, Natalie has a healthy self-image and a razor-sharp wit. She is an active member of the school newspaper staff, which she hopes will prepare her for a future as a writer. One of her major flaws is her willingness to follow any new trend or advice, no matter how way-out it may seem.

FACTS ABOUT ACTRESS MINDY COHN Mindy Cohn was born on May 20th, 1966, in Los Angeles, California. Mindy Cohn, known to most as the somewhat neurotic Natalie Green on The Facts of Life, has been an actress, a talk-show hostess and a game-show guest star. Mindy also earned her college degree in sociology, which was put to good use on a Phoenix-based radio talk show where she discussed teen issues alongside co-host Alan Thicke. (Coincidentally, Thicke co-wrote the Facts of Life theme song.)The five recent programs she has starred in are The Kids From Room 402 (2000), Alone with a Stranger(2000), The Chimp Channel (1999), Dead Simple (1999), and The Second Half (1993).

Address You can write Mindy Cohn at:
9300 Wilshire Blvd. #400
Beverly Hills, CA 90212

Where is she today? Mindy continued to act in various roles, including ones in the short-lived sitcom The Second Half and the 2000 feature film Alone with a Stranger. She also did voice-overs for TBS's Chimp Channel series and the animated Kids From Room 402. In 1995 Mindy, earned a degree in sociology from Loyola Marymount University, and soon after hosted a radio program on teen issues in Phoenix, Arizona with Alan Thicke. On May 15th, 1999, Mindy guest starred in an episode of Suddenly Susan.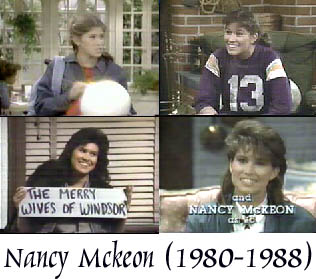 Jo Polniaczek
FACTS ABOUT THE CHARACTER JO POLNIACZEK A streetwise kid from the Bronx who joins the Eastland family in the show's second season, Jo is brash and headstrong. Don't be fooled, though. Her tough exterior hides a first-class intellect and a soft heart. Jo, often the voice of reason in a crisis, learns to navigate the privileged world of a private girls' school without losing her street smarts. Rich kid Blair is a favorite target for Jo's sarcasm, but if anybody else picks on Blair, Jo will likely rush to her defense. Her parents, Charlie and Rose were divorsed. In 1985, Edna got married, Jo caught the boughet. In 1987 she was the first of the girls to get married. She married character Rick Bonner.

FACTS ABOUT ACTRESS NANCY McKEON Nancy McKeon was born in Westbury, New York April 4, 1966. She has only one brother, Philip McKeon, who is 18 months older. She currently resides in Los Angeles. Phillip and Nancy have appeared in over 60 commercials together. From her childhood home in Forest Hills, NY, Nancy McKeon began her career as a catalogue model and actress on commercials and the now defunct soap opera The Secret Storm. When her brother Philip was cast to play Tommy on the series Alice, the McKeon clan headed for the West Coast. Nancy soon shared her brother's success.

Address You can write Nancy McKeon a letter at:
P.O. Box 6778
Burbank, CA 91510

Where is she today? After The Facts of Life was cancelled, Nancy made several guest appearances on television series and hosted Friday Night Videos opposite Michael Damian. Nancy McKeon continues to have an active career as a leading lady. She has appeared in recent TV movies such as The Wrong Woman and In My Sister's Shadow, in addition to a guest spot on Touched by an Angel. In the mid-'90s Nancy starred in the TV series Can't Hurry Love, on which she was also a producer. She now stars in Lifetime Television's original drama, The Division.