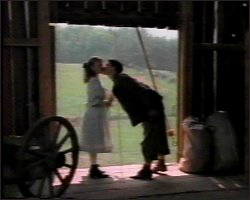 Highlights/Analysis: Hetty, Felicity and Gus begin the journey from South Carolina to Avonlea. Hetty reads the paper and is shocked to find that the Dale cannery was destroyed in a fire. When they settle in Avonlea, Felicity informs Gus that she is engaged to Stuart and that she was afraid that he wouldn't return if he knew. She also tells Gus that Stuart helped her survive when she was in mourning over his alleged death. Felicity confronts Stuart while he is feverishly building their dream house and tells him that they found Gus. A silently devastated Stuart mounts his horse and rides away. Jasper and Olivia plan to rebuild the cannery, but Stuart advises against it, informing them that they won't be able to compete with Carmody. Felix, who now happens to be Simon's assistant (which is kind of strange being that he was demoted to busboy in 'Total Eclipse'), tells Gus that he is considering joining the Navy. Jasper thanks his workers for their commitment and announces that he will not rebuild the cannery. Felicity returns Stuart's engagement ring and tells him that "finding Gus changed everything." A heartbroken Stuart tells Felicity that he waited a lifetime for her. Shortly afterwards, Stuart leaves Avonlea. Gus goes to Charlottetown for a surgery that he hopes will restore his eyesight. He survives the surgery but his recovery would be in question. While Felicity believes Gus is unconscious, she asks him to marry her. A perfectly conscious Gus tells her that "that's a proposal I accept." Jasper and Olivia announce that Jasper has accepted a position at the Royal Society and that they are going to leave Avonlea. Olivia infuriates Hetty when she asks for her share of the trust. Hetty feels betrayed when Alec supports Olivia and refuses to go to Felicity's wedding. The big day arrives and Sara Stanley arrives at Rose Cottage for the wedding. Sara is shocked to find that Hetty refuses to attend. Alec and Janet are surprised to find that Felix has joined the Navy. Felicity walks down the isle to a familiar and yet appropriate wedding march, but realizes that Hetty is not present. She leaves the ceremony and rushes in her bridal gown to Rose Cottage. Felicity tells Hetty that she will not get married without her and Hetty reluctantly returns with her to the church. (It's so significant that Felicity is the one to bring Hetty to reconciliation, since both Hetty and Felicity were compared with each other in personality and they both were the most influential women in Gus's life) Finally, the series reaches it's pinacle moment as Gus and Felicity are married and the family is reunited once again. After the wedding, the family gathers behind King farm where Hetty gives a moving speech. In the final seconds of the last episode, Hetty accepts "change" as "inevitable," implying that she accepts Jasper and Olivia's departure; but she also makes it clear that Avonlea will never disappear from their hearts and minds.


http://www.geocities.com/avonleamagiclantern/

The above text is taken from the "Avonlea Magic Lantern" site by Tim.